North Carolina Agriculture Speaker and Comedian
Stories of farming and farm life tailored for agricultural events. You'll enjoy tales of feeding hogs, raising crops, and keeping the farm equipment together with duct tape, bailing wire, and WD-40.
Nationally-touring agriculture speaker and comedian Jerry Carroll has recently performed in: Asheville, Battleboro, Clinton, Dublin, Elizabeth City, Greensboro, Hickory, Holly Springs, Monroe, Nashville, Raleigh, Rocky Mount, Roxboro, Smithfield, Wilmington, Wilson, NC and other cities.
Upcoming Schedule
| | | |
| --- | --- | --- |
| 10/3/2019 | Wilmington, NC | Annual Meeting |
Recent Reviews from North Carolina
Annual Meeting in Wilmington, NC
Jerry Carroll provided an atmosphere that we've never had previously at a Carolina Loggers Association event. He kept the crowd engaged during his show. I received numerous compliments on having him come join us so I know the crowd was pleased. Not only was he extremely funny, he tailored his show to relate to the loggers we had in the room. I talked with him prior to the event and he was very helpful and stayed in contact throughout the entire weekend."
- Communications Director, Carolina Loggers Association
Annual Meeting of Members in Clinton, NC
Jerry Carroll was an awesome performer. He engaged with the audience and kept everyone laughing. We all loved his country accent and especially loved the cowboy boots and hat. We highly recommend Jerry Carroll for any event!"
- Community Relations Coordinator, Star Communications
Oyster Roast in Wilson, NC
Jerry Carroll was beyond amazing! He fit in so well with our venue, atmosphere and guests. The event was a HUGE success. People are already asking for him to return next year!"
- Co-Chair, Wilson County GOP
Annual Company Meeting in Hickory, NC
Jerry Carroll did a fantastic job and we probably had as good of a response from the employees as for any performer. He picked a few folks out of the crowd and had a lot of fun with them. He also led a little 'talent show' that we had added to the event. Thanks again"
- Vice President, G & B Energy
63rd Annual Peanut Field Day in Nashville, NC
Great show, everyone enjoyed Jerry Carroll. It is always a pleasure to see him. Thanks for working it out."
- Chief Executive Officer, North Carolina Peanut Growers Association
Grower Education in Raleigh, NC
Jerry Carroll was very entertaining. We had a great time!"
- Communications Supervisor, Agrium Wholesale Communications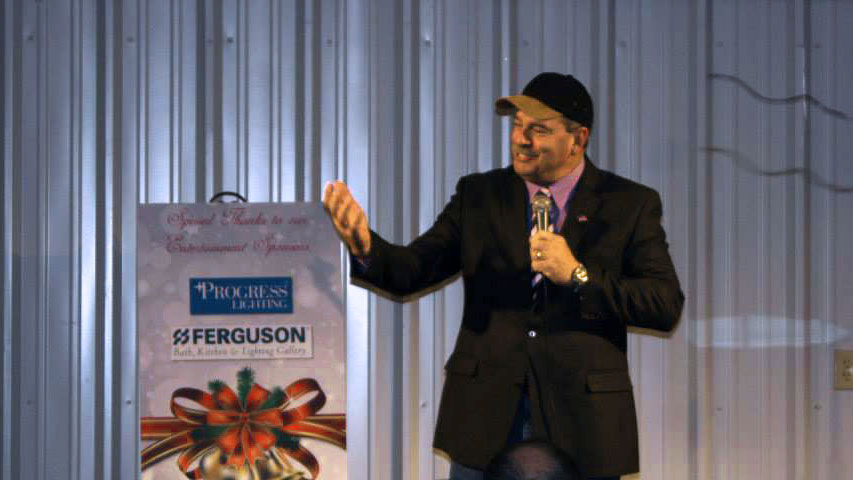 Christmas Dinner in Smithfield, NC
Jerry Carroll was fabulous! Spoke with everyone, very prompt, and participated in our fundraisers we had. His material "hit home" for everyone in the room!"
- Executive Officer, Johnston County Building Industry Association
Real Southern Comedy Tour in Roxboro, NC
Thank you so much for everything. Jerry Carroll's comedy touched on everyone at some point during the show. The comments we received were great and we have not heard any negative comments. Everyone enjoyed the meet and greet after the show. You all were great to work with. We would have you back any time!"
- Cultural Arts Program Director, Kirby Theater
Sales Meeting in Rocky Mount, NC
Jerry Carroll was excellent."
- Director Sales and Marketing, Meherrin Agricultural & Chemical
Propane Marketers Seminar in Raleigh, NC
We were very pleased with Jerry Carroll! Everyone thoroughly enjoyed him. We did a survey following the convention and the response was overwhelming positive."
- Office Manager, North Carolina Propane Gas Association
Spring Safety Meeting in Greensboro, NC
Best comedian we have ever hired or will hire!!! This is the third time we have asked Jerry Carroll to entertain our guys, and he never fails to do just that... ENTERTAIN!! Quick and Dirty is he's AWESOME!! Always arrives early, show is personable, fits the audience no matter how diverse. Our entire audience loved him!"
- Office Manager, Environmental Air Systems, Inc.
Annual Awards Banquet in Raleigh, NC
Jerry Carroll was the icing-on-the-cake to our annual conference and workshops. He related directly with parents, grandparents, farmers and executives - all on an insightful, entertaining level. One professor from the university finally had to take his glasses off because he kept wiping tears. Our event evaluations show the group enjoyed his program VERY much."
- District President, Cooperative Extension Secretaries
President's Million Mile Banquet in Rocky Mount, NC
Everyone loved Jerry Carroll! Some of our guests knew Jerry from other events they had attended and could not wait to hear him again. We will definitely invite him back!"
- Administrative Assistant, Eagle Transport Corp
Driver's Safety Banquet in Battleboro, NC
Jerry Carroll was great. He exceeded our expectations. He was very funny and was able to keep the crowd laughing."
- Transportation Manager, McLane Carolina