Ohio Agriculture Speaker and Comedian
Stories of farming and farm life tailored for agricultural events. You'll enjoy tales of feeding hogs, raising crops, and keeping the farm equipment together with duct tape, bailing wire, and WD-40.
Nationally-touring agriculture speaker and comedian Jerry Carroll has recently performed in: Columbus, Millersburg, Plain City, Saint Henry, Sandusky, OH and other cities.
Recent Reviews from Ohio
Regional Showcase Update Meeting in Sandusky, OH
Jerry Carroll did an outstanding job and had us rolling with laughter! I'm fairly sure he may have some new prospective leads for other events from our group. Highly recommended!!"
- OH Sales Manager, Crop Risk Services
National Sales Conference in Plain City, OH
Jerry Carroll showed up for our National Sales Conference several hours in advance of his performance and immediately started relating to our group and making them laugh. He is one of the funniest and fun people to be around that I have ever met. He is unassuming and very personable. If you are looking for a great performance of humor and real-life rural and farm humor, Jerry Carroll is as good as I have ever heard. In our reviewing our conference participant surveys, Jerry received the highest presentation rating of all of our hired presenters this year."
- Meeting Planner, Select Sires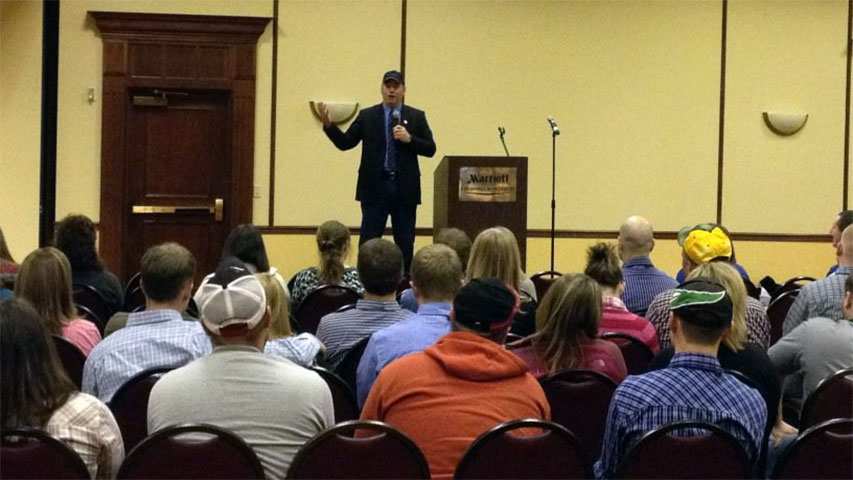 Winter Conference in Columbus, OH
Everyone loved Jerry Carroll!! He was a perfect way to end our conference!!"
- Young Agriculture Professionals Committee, Ohio Farm Bureau Federation