South Dakota Agriculture Speaker and Comedian
Stories of farming and farm life tailored for agricultural events. You'll enjoy tales of feeding hogs, raising crops, and keeping the farm equipment together with duct tape, bailing wire, and WD-40.
Nationally-touring agriculture speaker and comedian Jerry Carroll has recently performed in: Aberdeen, Brookings, De Smet, Deadwood, Herreid, SD and other cities.
Recent Reviews from South Dakota
Company Team Meeting in Deadwood, SD
Jerry Carroll appealed to everyone in the audience, both young and old. He was humorous and his act was in good taste. I wouldn't hesitate hiring him again for another engagement in the future."
- Vice President Appraisal, Farm Credit Services of America
Ag Women's Day in Brookings, SD
We were very pleased with Jerry Carroll's performance and felt he certainly met our expectations. Lots of positive feedback from the attendees, and we too enjoyed his performance. He even received a standing ovation!"
- Farm Loan Specialist, Brookings County Farm Service Agency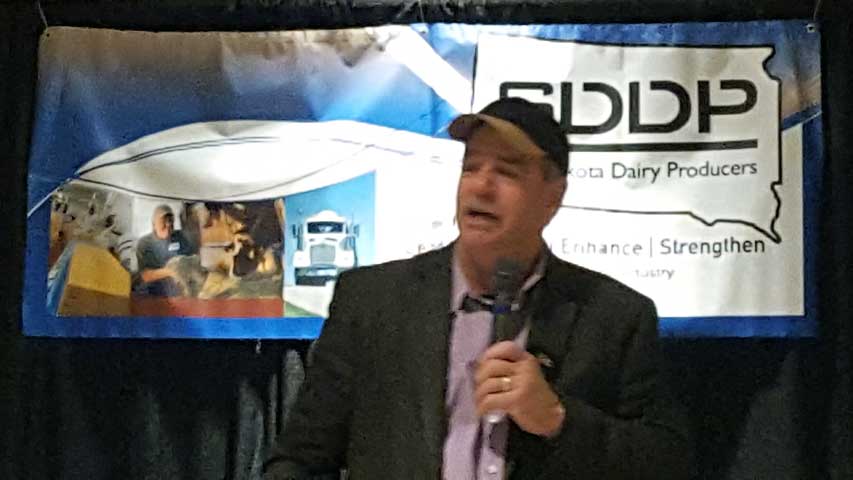 Annual Meeting in Brookings, SD
Jerry Carroll was very entertaining. He arrived early, listened to our business meeting and got a flavor of who SD dairy farm families were. Then he used his talents to intertwine comedy of real life experiences and dairy life to keep everyone laughing. I only wish more could have been present to go home with a pain in the side from laughing."
- Executive Director, South Dakota Dairy Producers
State Convention in Aberdeen, SD
Jerry Carroll was excellent! Besides on the stage, he also entertained our members at the airport, hotel, etc.! Our President wants him back for our 100th annual celebration in 2015. I will be contacting you as soon as I know the dates!!"
- Convention coordinator, South Dakota Farmers Union
Customer Appreciation in De Smet, SD
We were very pleased with Jerry Carroll. He was extremely personable and his material fit in with our audience of all farmers."
- Accountant, Midstate Agronomy
Dealer Banquet in Brookings, SD
Jerry Carroll did a great job connecting with our agricultural customers and tailored his performance to their profession. He is very personable and knowledgeable about our industry. I would recommend him to others."
- Business Manager, Asgrow and DEKALB Seed